Corporate social responsibility of the Bank Pocztowy Capital Group
---
Corporate social responsibility of the Bank Pocztowy Capital Group
Corporate social responsibility of the Bank towards its clients, employees, shareholders, bondholders and the society is an integral part of its operations. The principle has been confirmed in the new development strategy for the years 2015-2018 adopted in April 2015.
The mission of the Bank is to be a leading supplier of financial services in provincial Poland, offering simple, secure and reasonably priced banking.
Bank Pocztowy: what is it like?
Simple. Focused on simple products.
Inexpensive. Offering good prices for a wide group of clients.
Integrated with Poczta Polska S.A. and offering modern services within the Poczta Polska S.A. Capital Group.

Relations with clients
The main objective of all activities taken by Bank Pocztowy is to constantly improve client satisfaction by way of offering products and service responding to their needs.
Simple, secure banking for a reasonable price is the mission of the Bank, the starting point to simplify its product offer, processes, procedures and communications. The strategy assumes a simple offer available in the vast sales network of Poczta Polska targeted at mass clients from towns of below 50 thousand inhabitants. The Bank decided to develop a mobile offer for digital clients integrated with services of the Poczta Polska Capital Group (including consumers and microenterprises) and to continue growth in the housing and settlement areas.
Having in mind client needs in 2016 the Bank introduced a number of innovative initiatives aimed at improving service quality and higher client satisfaction with the Bank's services. They included projects discussed in more detail in the Report, such as: streamlining a number of the Bank's Contact Center areas, simplifying the product offer, developing a new website www.pocztowy.pl and an educational website on stock exchange giełdowy.pocztowy.pl, as well as preparing a top-quality interactive on-line annual report.
The Bank incessantly strives to further improve the customer service quality taking appropriate steps in the following areas:
training Relationship Managers,
monitoring service quality,
client satisfaction surveys Net Promotor Score (NPS).
The Bank focuses on natural communication and starting friendly relationships with clients, hence it no longer encourages traditional standard sales communication. Service standards need constant adjusting to needs and expectations of the target client group.
In order to ensure high service quality, we have adopted client service standards depicting desirable behavior to be adopted by advisers when discussing with clients. The description includes discussing with clients coming to the outlets, telephone calls and e-mail correspondence. The aspects described in the book of standards are monitored in the form of Mystery Shopping and Mystery Calling.
Also, a blog has been maintained on the Bank's website as an element of dialog with clients. A number of messages published in the blog, such as introducing Pocztowy24, the new Internet banking system, have met a strong response on the clients' side.
The Bank has used its Facebook profile and YouTube to reach its clients, too.
In 2016, in the Customer Satisfaction Survey carried out by ARC Rynek i Opinia, which included the 15 largest banks in Poland, Bank Pocztowy won recognition in three categories:
2nd place in the satisfaction ranking,
3rd place in the loyalty ranking,
1st place in the fee and commission ranking.
Further, Bank Pocztowy won the prestigious title of "Bank Recognized by Clients". Key conclusions of the survey included a statement that "Bank Pocztowy has retained a high position in the satisfaction ranking, which confirms that it has a group of dedicated clients and knows how to satisfy their needs".
Relations with employees
Implementation of the Bank's strategy would not be possible without mature managers and devoted employees.
Social responsibility regarding relations with Bank's employees involves:
providing employees with promotion and development opportunities,
succession plan implementation,
providing friendly and safe job positions,
integrating and enhancing bonds with the employer,
improving internal communication,
ensuring ethical management,
ensuring work-life balance, among others through supporting employees' passions and hobbies.
An employee involvement survey carried out in 2015 indicated a relatively low involvement of Bank's employees. Therefore, measures were undertaken to prepare a complex plan aimed at significant and permanent improvement. At the same time, cooperation with the Social Partner and work-life balance supporting activities are coming into focus.
Various aspects of remuneration policy, competency building, developing growth and promotion paths are presented in Section 10 Human resources management.
The Bank supports non-professional interests of its employees, to include sports. Most sports events are organized in cooperation with Poczta Polska.
In 2016, the calendar of events included 30 initiatives, out of which four were sponsored by the Bank and two organized directly by it. Employees of the Bank participated in the following sports events:
Indoor Football Championship for Poczta Polska S.A. Employees in Iława (six-member teams),
International Sailing Championship of Poczta Polska S.A. in Giżycko,
Poczta Polska S.A. Olympics in Sieraków near Poznań,
Shooting contest in Ustka, during which the Amber Globe Competition was held (both events organized by the Bank),
InO Competition in Zawiercie (organized by the Bank),
Postal Courier Run and Warsaw 10 km Run.
Almost 250 employees of the Bank participated in these events. Moreover, almost 50 persons received a grant for their participation in mass events, mainly in street runs organized by various organizations in Polish cities.
The employee relationship policy is supported by activities initiated under Social Benefit Fund. In 2016, the Fund:
provided non-refundable support to individuals affected by accidents or facing material, family or other serious life problems,
co-funded organized vacation for children and youth aged up to 18 and purchase of school books,
co-funded group benefits, so-called open cultural, educational and sports events,
co-funded MultiSport initiative,
provided seasonal benefits for employees' children (Christmas, Easter) and cash benefits for all employees of the Bank. The gift giving event organized on 6th of December enjoyed popularity among employees,
provided employees assistance in the form of reimbursable housing loans.

Social initiatives
For years, the Bank has pursued initiatives that produce benefits in the form of broadened knowledge of finance and banking among citizens (education) and social inclusion (e.g. donations).
Such initiatives, exceeding the standard business operations and understood as the social mission of the Bank, are usually addressed to children, youth or elderly people in need of special care.
In 2016 the Bank got involved in the project named Bakcyl - Bankowcy dla Edukacji Finansowej Młodzieży (Bankers for Financial Education of the Youth). The project is an example of socially responsible initiative, improving the understanding of finance among young Poles, and based on voluntary involvement of bank employees as trainers. Non-banking firms and institutions are also invited. This year, Bank employees acted as teachers in gymnasiums, introducing students to finance and indicating advantages of such knowledge, to include smart household business management.
The Bank participated in the World Youth Day organized in Poland in 2016, supporting the organization of the Culture Zone in Warsaw. The Zone offered sport and charity events addressed to the youth and animations demonstrating and promoting Polish culture.
The social mission of the Bank included also providing educational aids (computers, laptops) to selected education centers.
Bank's employees get involved in other voluntary initiatives, such as the Noble Box.
Understanding the growing role of new technologies in business and everyday life, the Bank is interested in new, innovative solutions. Therefore, it got involved in impact'16 fintech/insurtech conference and became its Partner. The conference took place on 7 and 8 December 2016 and attracted nearly 500 participants, 100 domestic and foreign speakers, resulting in 250 meetings of startups and corporations. Discussed topics included new regulations on the financial market, blockchain and cryptocurrencies, cyber security, information management, new payment models and education in the banking sector.
Supporting business
Entrepreneurship is a characteristics that allows many people to improve their lives. The most industrious ones open new businesses which bring benefits to the society, significantly supporting Polish economy, providing new jobs and promoting growth of local communities. Promoting such attitudes is an objective of the Bank.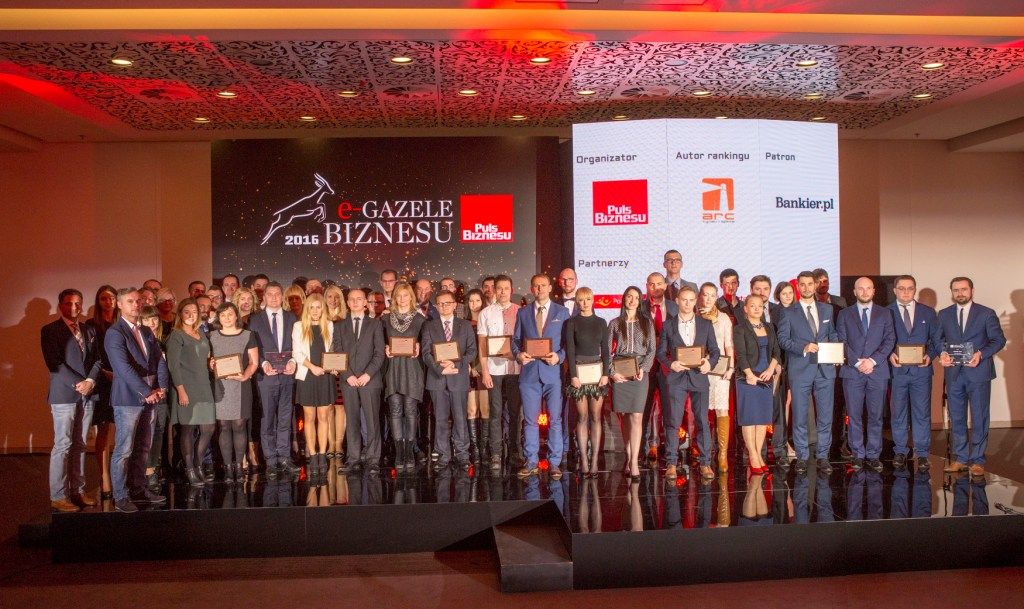 Therefore, in 2016, the third consecutive time, the Bank partnered the Business e-Gazelles ranking, which recognizes the most energetic SME operating on the e-commerce market in Poland. During this edition, 333 winners were appointed for sales revenue growth in 2014-2015 (up to PLN 100 million) and a profit generated in 2015.
Promoting entrepreneurship includes organization of events, lectures, courses or scientific conferences that popularize pro-active attitudes. A training seminar entitled "Fair ways to make money" organized by the Management Faculty of University of Łódź in cooperation with the Bank had a similar objective. It promoted business ethics and values and attracted managers and young people interested in production, sales, services and, at the same time, value and brand building, mission and organizational strategy, as well as in personal growth.
Further, the Bank got involved in the organization of "Innovative woman" congress held in November 2016 in Zawiercie. The event promoted female entrepreneurship and was devoted to innovation, growth, development, benefits and new ideas. Its guests represented the following sectors: power, finance, trade, PR, fashion, arts, media, legal, entertainment, HR, science, production, cosmetics, consulting, health care, steel, mining and public administration.
Promoting sports
For still another year, initiatives of the Bank promoted sport, which is an important activity for many Poles.
Its involvement allowed Stal Gorzów Wielkopolski motorcycle team to organize the Championship of Poland speedway contest in summer 2016. The fact that Stal Gorzów Wielkopolski team won the title the ninth time in history makes the event even more satisfying.
Donation policy
Donations of Bank Pocztowy (PLN '000)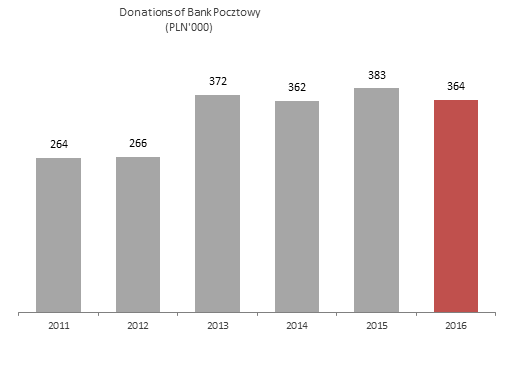 The Bank has a Donation Committee, which, according to the Charter, may distribute up to 1.5% of gross profit generated in the previous financial year.
Funds provided in this manner are used for a variety of noble purposes, such as education, support for those in need (often socially excluded) due to handicaps or adverse circumstances.
In 2016, donations granted by the Bank amounted to PLN 364 thousand.
Social package
Like in the previous years, in 2016 Bank Pocztowy provided its employees with a large package of additional benefits. At the same time, it started works to make them more attractive, by way of adding new benefits, taking into account staff preferences:
comprehensive medical care providing employees with broad access to private medical services, with an option to extend it to their family members on preferential terms. The package was additionally extended by new medical services access standards.
Sports and entertainment: The Bank continued its cooperation with Benefit Systems Sp. z o.o. Thanks to MultiSport cards all employees are granted unlimited access to sports and leisure facilities around the country. Further, each employee can buy additional cards for children and partners on preferential terms, under an agreement concluded between the Bank and Benefit Systems Sp. z o.o.
Employee Pension Plan (EPP) significantly contributing to safe financial future of employees due to the growing need to accumulate capital for future pension benefits.
Voluntary group life insurance: under the agreement between the Bank and the selected insurance company employees may buy life insurance on advantageous terms.
Social benefits: employees may use benefits offered by the Social Benefits Fund established pursuant to the Act on Social Benefits Fund of 4 March 1994 (as amended) and the Social Benefits Fund Operational Rules of Bank Pocztowy S.A. Each eligible person may use the Fund in the form of:

participation in various forms of sport and cultural events organized by the Bank,
receiving financial support in challenging and unpredictable situations in life.
Such support is provided based on social criteria in the following forms:

non-refundable financial or non-financial support,
subsidized textbooks for employees' children who are still at school,
subsidized holiday travel for children and teenagers,
refundable loan for housing purposes.
In 2016, appropriation to the Social Benefits Fund amounted to PLN 2.2 million.