Organizational and infrastructural development
---
Organizational and infrastructural development
The organizational structure of the Bank comprises: Head Office, Branch and other organizational units. The Head Office is the strategic management center, which designs and implements systemic and developmental solutions in the Bank, carries out certain operations and provides services to certain clients.
The Head Office is managed through functionally and organizationally separated areas of Bank's operations that comprise functions and/or other organizational units not included in these functions.
Management Board members supervise the separated operational areas. The supervision includes: correct and efficient performance of tasks assigned to individual functions and/or organizational units not included in the functions and coordination of their cooperation.
The operational areas of the Head Office include:
functions: groups of functionally related organizational units in the Head Office and/or Branch, which design, organize and perform specified processes on the Bank's level;
organizational units of the Head Office: departments or offices reporting to Management Board members or managing directors and comprising separate internal units (bureaus, teams, individual positions).
The Bank has committees, i.e. groups consisting of managerial staff members, whose activities support those of the Management Board, in particular with respect to managing the risks identified in the Bank.
Advisers to the Chairman of the Management Board, if any, operate within the Head Office. The Management Board Chairman may indicate Head Office units with which a given advisor is obliged to cooperate on an ongoing basis.
In the second half of 2016, a series of organizational changes took place in the Head Office in order to eliminate management weaknesses and excess bureaucracy in certain operational areas, which has resulted in more efficient and simplified organizational structure, adjusted to quick and effective proceeding.
In light of the above, as at 31 December 2016, the organizational structure was as follows:

As at 31 December 2016, five operational areas existed in the Bank and reported to individual Management Board members:
Strategic Management and IT - reporting to the Chairman of the Management Board;
Business and Treasury - reporting to a Management Board Member;
Finance - reporting to a Management Board Member;
Risk - reporting to a Management Board Member;
Support and cooperation with Poczta Polska - reporting to a Management Board Member.
Key objectives and tasks assigned to each area:
Strategic Management and IT:
Presidium, Legal and Security Function: ensuring efficient operation of Bank's bodies, efficient legal support to protect interests of the Bank, ensuring security of IT systems and Bank's resources, to include business continuity solutions and safety of the Bank's operations and clients' funds through preventing fraud, money laundering and terrorism funding;
Human Resources Management Department: developing employment, training and social policy, ensuring appropriate staff quality and qualifications;
Strategy and Organization: developing and verifying Bank's strategy and ensuring efficiency of its organizational structure;
Marketing and Public Relations Department: marketing activities, internal and external communication;
Internal Audit Office: ensuring tight and effective internal control;
Compliance Department: ensuring efficient management of compliance risk;
IT Function: maintaining infrastructure and IT systems on an appropriate level and developing IT systems in accordance with internal client expectations.
Business and Treasury:
Business and Sales Development Function: developing a desired bank service and product offer and innovative functional and technological solutions essential for meeting business objectives in the consumer, institutional and clearing banking segments, in accordance with the needs of individual business lines, as well as in corporate banking with regard to bank cards and e-money.
Treasury Department: current liquidity management
CRM, Data Analyses and Data Warehouse Department: developing CRM and data analysis tools through supply of management information with the use of Data Warehouse.
Finance:
Finance Function: performing the financial planning process, monitoring implementation of financial plans, keeping accounting records, managing internal resources, statutory reporting, tax services, strategic management of the structure of assets and liabilities and structural liquidity in the Bank.
Purchase and Cost Optimization Office: correct performance of the purchase process and cost rationalization.
Risk:
Risk Function: developing an integrated risk and capital management system supporting implementation of the strategy and maintenance of the adopted risk appetite level; developing the risk function strategy related to that of the Bank; developing Bank's credit risk policy and an effective risk monitoring, restructuring and debt collection system; participating in sales of consumer loans, consumer mortgage loans, products for microenterprises and loan products for institutional clients sold in individual distribution channels (with regard to loan decision making);
Independent Validator Position: developing draft internal principles and procedures regarding model validation, organizing the validation of financial models used by the Bank, carrying out validation of the models in compliance with Model Management Principles.
Support and Cooperation with Poczta Polska S.A.:
Process and Operations Function: developing processes and service support, developing a desired bank service and product offer and innovative functional and technological solutions essential for meeting business objectives, ensuring efficient supervision over performance of operational activities under agreements between the Bank and insourcers, developing, implementing and internal reporting of operating performance ratios, coordinating the Bank's capital investments, organizing an effective distribution channel for banking products and efficient client service through Contact Center, ensuring foreign currency transaction processing and settlements and settlement of transactions concluded by the Treasury Department.
Department of Cooperation with Poczta Polska: carrying out the policy regarding consumer product sales and third-party products in the Poczta Polska network in compliance with the Bank's financial and market strategy and in cooperation with Poczta Polska.
Logistics and Administration Department: ensuring appropriate work conditions and tools.
The functions are supervised by managing directors, which at the same time may manage individual organizational Head Office units included in a given function. Head Office organizational units report to managing, department or office directors. Head Office organizational units are included into functions and report to their managing directors, or operate beyond the functions and report to Management Board Members. Head Office organizational units are established, liquidated and assigned tasks in the form of resolutions passed by the Management Board in accordance with varying operational efficiency and management needs. The organizational units of the Head Office establish their own internal units (bureaus, teams, individual positions).
The Head Office includes committees whose operational rules are determined by the Management Board:
Assets and Liabilities Committee (ALCO);
Loan Committee (LC);
Loan Appellation Committee (LAP);
IT Initiatives Prioritization Committee (ITIPC);
Operational Risk Committee (ORC);
IT Architecture Committee (ITAC);
Project Portfolio Management Committee (PPMC).
Bank's tasks as determined in its Charter are performed by the Branch and by the network of Outlets and Microbranches. A Branch is an organized unit recorded in the National Court Register and assigned a sort code. Its organizational rules are determined by the Management Board. Outlets and Microbranches are established and liquidated by means of Management Board's resolutions passed following a motion of the Business and Sales Function Managing Director, taking into account the need for the Bank to be efficient and to maximize sales performance.
Bank Pocztowy has a well-developed sales network consisting of:
main channels, i.e. its own network, the Poczta Polska sales network and the distribution network of Spółka Dystrybucyjna;
supporting channels: e-banking, Contact Center, agents.
Distribution channels' structure of the Bank has been presented below.
At the end of 2016 the Bank's own network included 217 entities, i.e. one Branch, 20 Outlets and 196 Microbranches. Following a series of analyses of effective location of the outlets and of their performance, in 2016 the total number of outlets was reduced by 67 entities, including the closing of three agencies located in trade malls. Most closed outlets had been located in the Silesian Region (11), in the Central Region (9) and in the Northern Region (9). The action steps aimed at improving the efficiency of the sales network will be continued in future and they may bring about relocation of certain outlets to locations with the higher business potential and further networks restructuring. The network revitalization complies with the new Bank Standards Book adopted by the Bank. In 2016 revitalization was performed in 13 Microbranches.
The network of traditional distribution channels in Bank Pocztowy by province: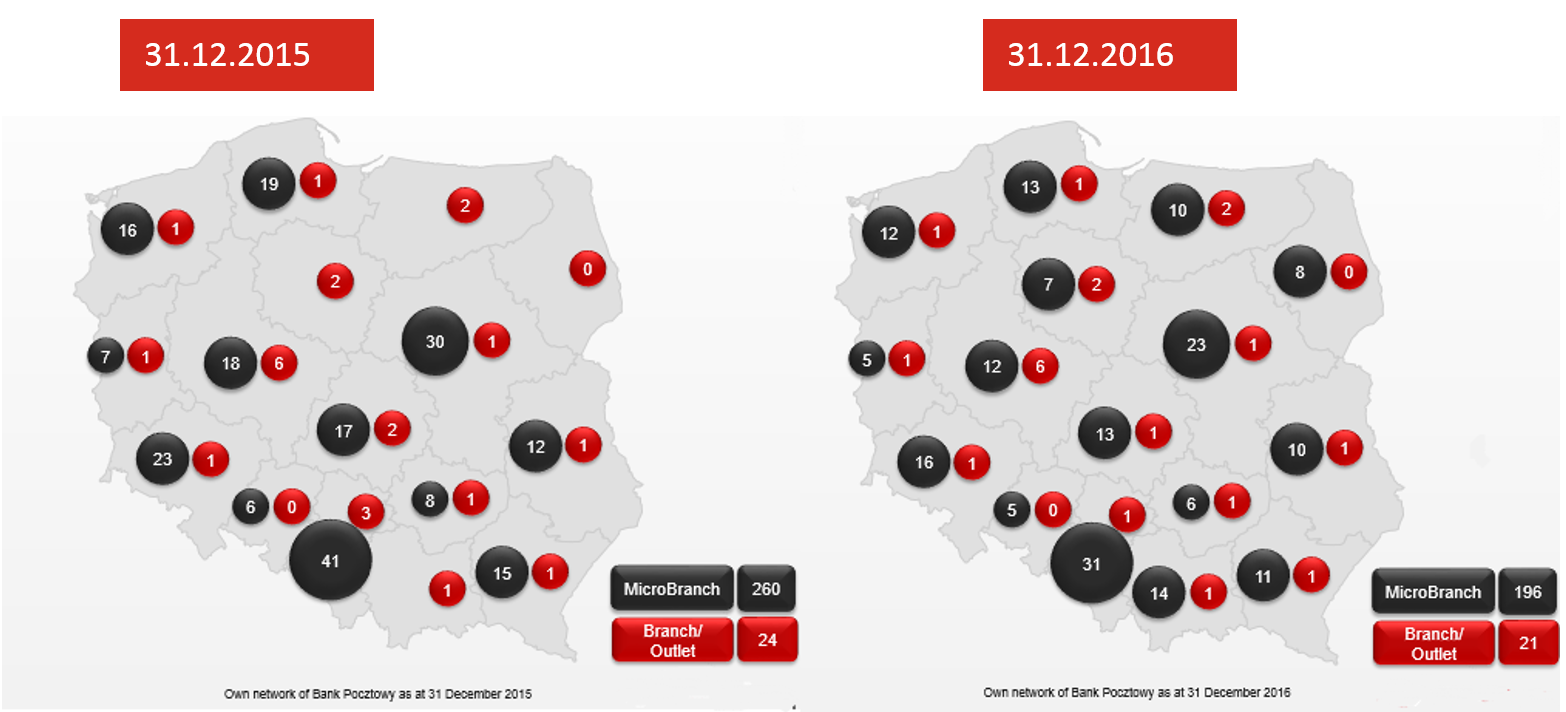 Internet distribution channels are being developed as well. Consumers may use Pocztowy24 e-banking system, while institutional clients have access to Pocztowy24 Biznes. Contact Center is a phone banking system, which enables clients to access their accounts and other banking services via phone or instant messengers. In 2016 the Contact Center employed 56 people. During the year, they answered 600,000 calls from customers, employees of Poczta Polska and Microbranches, replied to 75,000 e-mail messages and participated in 9,000 chats. Annual NPS generated by the Contact Center was 54.87%. Additionally, 86% customers confirmed that issues that made them contact the Bank were solved upon the first call. [1]
Additionally, the Bank's products are distributed by the net of Mobile Relationship Managers of Spółka Dystrybucyjna. Under the agency agreement with the Bank, Spółka Dystrybucyjna coordinates the work of mobile RMs, who sell mortgage products offered by the Bank, cash loans and products offered to microenterprises. The self-employed RMs operate countrywide. Under the agreement the RMs may use back-office units of Spółka Dystrybucyjna in ten locations: Warsaw, Gdańsk, Gdynia, Bydgoszcz, Olsztyn, Katowice, Łódź, Poznań, Krakowie and Wrocław. The RMs acquire new clients for the Bank using own business relations. At the end of 2016, Spółka Dystrybucyjna cooperated with 92 RMs.
The Bank provides financial services using the sales network of Poczta Polska (approx. 4.7 thousand offices including 570 Postal Financial Zones). Further, its products are distributed by postmen. The extensive network provides easy access to banking products and services countrywide.

Photos of outlets designed in line with the new standards have been presented below:

The scope of services provided by each channel distributing products and services of the Bank.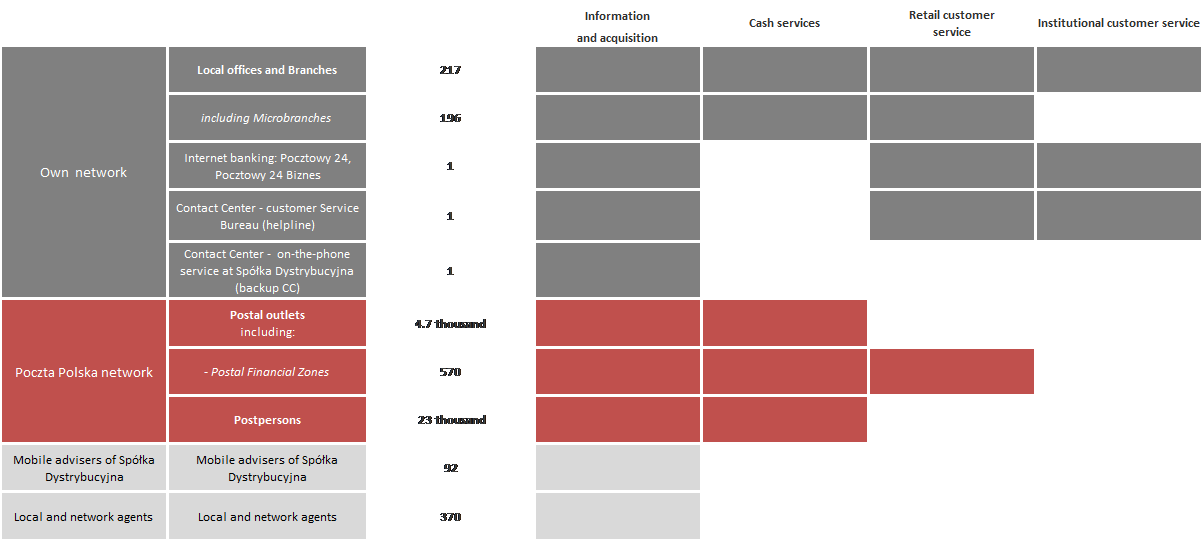 In 2016 the Bank incurred capital expenditure on development projects amounting to PLN 31.4 million, which was 39% higher than in 2015, when it equaled PLN 22.6 million. The increase in the capital expenditure in 2016 was to a large extent related to the Bank's plans to implement a new, extended mobile and online banking platform EnveloBank. Moreover, most investments pertained to IT and included the modernization and development of key IT components and optimization of back-office and sales processes. Some funds were used to develop security systems.
In 2016, investment outlays were mostly used to finance the following development projects:
Digital services development
Commissioning of EnveloBank, the new digital brand of the Bank, responding to the needs of mobile customers, in 2017 is the key strategic projects. It has been the largest project carried out by the Bank in terms of its elements and the human and financial resources involved. In 2015 the Bank made certain efforts to prepare for the launch of the new brand, such as developing a technological solution, its implementation plan, product and service offer and adjusting processes to digital client service. The activities were continued in 2016, and the EnveloBank offer was extended beyond the scope of financial services. It will include products and services offered by other entities of the Poczta Polska Capital Group and by third parties.
Development of e-distribution channels
Instant transfers, a new product in the Bank's offer, have been implemented to drive the attractiveness of the Bank's offer for mobile clients. Instant transfers enable clients holding current accounts with the Bank to make fast transfers within 20 minutes. Following the implementation in the second quarter of 2016, the Bank's offer has been adjusted to market standards with respect to instant transfers.
IT and Operations
Front-End implementation in the offices of Poczta Polska S.A.
The project is a follow-up of the Front-End implementation in Bank's Outlets and its key objective was to implement a new technological solution in the network of Poczta Polska S.A., which allowed extending the scope of products and services offered to clients through post offices, access to products and services in all postal outlets and improving the efficiency and speed of Bank's product sales along with post-sales support of Bank's customers. In 2015, Front-End (sales and post-sales support) was implemented in the Poczta Polska network, while in 2016 implementation of back-office processes modifications was completed.
Projects related to the Bank's operations
Development of the Customer Relationship Management system
The key project objective has been to provide comprehensive CRM solutions which would integrate all communication channels and sales support systems, which allowed for developing mechanisms to collect client data and prepare special customized offer available in their preferred distribution channels. The offer is available through RM via CRM tool, in remote channels such as IVR and on the website through system integration in the project. Consequently, a strong relationship, beneficial for both parties, has been developed. All cross-selling initiatives encourage client activity and increase the number of products sold per one client at the same time increasing income in the consumer segment.
Modernizing the workflow system (Ferryt)
The project objective was to put into practice the following ideas:
"simple banking" achieved through simple user interfaces and short request processing time;
"@ccessible banking" achieved through new possibilities of filing requests for products and services.
Additional objectives included optimizing processes, improved usefulness and system security.
Full implementation of the upgraded version was completed in the first half of 2106.
Data Warehouse and MIS upgrade
The Project objective is to provide business functions with timely, accessible and reliable information supporting performance of market and financial goals. The objective will be performed through the development of controlling methodologies, the upgrade and development of the Data Warehouse and Management Information System tools. Full implementation is planned for the second quarter of 2017.
Customer Lifecycle Management
The project focuses on Customer Lifecycle Management based on selecting most appropriate communication channels, communication and Bank credit products to the carefully selected client group.
Development and implementation of the strategy in the first half of 2016 enabled precise alignment of the Bank's credit products with the needs of consumers. This, in turn, will drive cross selling and profitability.
New Cash Loan Approval Process
The project objective is to establish a single, simple and flexible process of selling cash loans to be extended by other or new products in future. The process is designed so as to become a flexible tool allowing adjustment of the credit offer to the needs and possibilities of clients, a transparent, fast and easy-to-handle process for Bank's employees. Its implementation is planned for the first quarter of 2017.
The implementation will allow:
simplifying the cash loan application process;
increasing the number of cash loans sold by the Bank;
increasing revenue on cash loans and thus improving the related Bank's performance;
improving the loan portfolio quality.
The project included implementation of a new management system (along with an internal settlement model) underlying the calculation of capital requirements.
The new version of Risk.Pro was implemented in the production environment in June 2016.
Extending Contact Center and Contact Center 24/7
The project assumed implementation of a solution that would allow further efficient operation of the Contact Center, its improved efficiency and productivity and introduction of new functionalities, which would enable providing services to a growing number of Bank's clients. Its going live planned in the first half of 2017 will allow extending the Call Center working hours to 24 h for seven days a week, which is the current market standards. This in turn will allow additional sales of cash loans or debit cards.
The effects of the project include the Bank's winning the 5th place in the Remote Channel Client Service Quality Survey carried out the fifth consecutive time by MojeBankowanie.pl portal. The Bank saw the biggest advancement among all participants, improving its scoring by 19 p.p. versus the previous year. This implies an advancement from the 23rd place.
Additionally, the Bank implemented security projects involving extension of the IT security architecture (improving security through monitoring of remote access to the banking systems and to production environment) and implementation of a new anti-fraud and AML system limiting the risk of fraud detrimental to the Bank and enhancing anti-money laundering measures and terrorism financing prevention.
---
[1] Net Promoter Score (NPS) – a tool to evaluate customer loyalty, an alternative to traditional client satisfaction surveys.