Since December 2011, Bank's bonds are traded on the Over-The-Counter market of the Warsaw Stock Exchange (Catalyst).

The key purpose of investor relations is to provide the stakeholders with up-to-date and reliable information regarding the Bank in a simple and clear manner, in compliance with the law.
Since Bank's shares are not traded on a regulated market, in 2014 its activities regarding investor relations focused on:
Developing contacts with investors holding Bank's bonds or interested in purchasing them;
Fulfilling of information obligations related to the bonds being listed with Over-The-Counter market of the Warsaw Stock Exchange (Catalyst).
At the end of 2014, the following bonds of Bank Pocztowy S.A. were quoted with Over-The-Counter market of the Warsaw Stock Exchange (Catalyst):
Series
Type
ASO GPW
symbol
NDS symbol
Issue
date
First quoting
date
Redemption
date
Face
value
(in PLN)
Number of
bonds
Issue value
(in PLN)
Interest
A
subordinated
BPO0721
PLBPCZT00015
08.07.11
02.12.11
08.07.21
10,000
4 734
47,340,000
WIBOR6M+375 pb*
B2
ordinary
BPO1216
PLBPCZT00049
13.12.13
13.03.14
13.12.16
10,000
14 785
147,850,000
WIBOR6M+140 pb
C
subordinated
BPO1022
PLBPCZT00031
05.10.12
20.02.13
05.10.22
10,000
5 000
50,000,000
WIBOR6M+350 pb
* until 8.07.16; from 9.07.16 to 8.07.21 WIBOR6M+3.75+1.5 p.p.
Quotings and performance on the bonds of Bank Pocztowy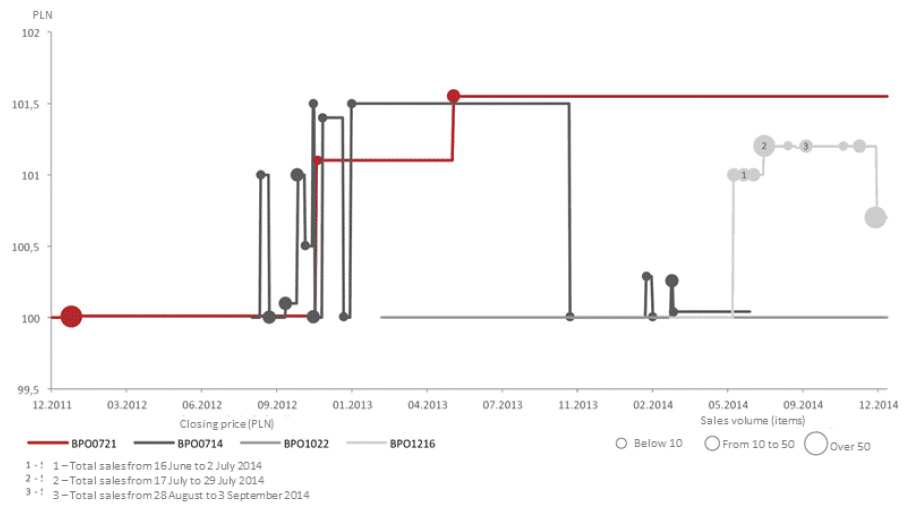 In order to fulfil the information obligations imposed by Catalyst and to ensure full transparency of operations, the Bank and the Group publish annual and mid-year reports.

Further, both the Bank and the Group, despite not being obliged to do so, publish selected quarterly financial data. The publication is accompanied with press conferences during which Management Board representatives discuss performance for a given period.

In 2014 the Bank successfully performer six bond issues:
two issues of ordinary bonds: four-year B3 series for the total of PLN 40 million and B4 series for the total of PLN 170 million;
four series of short-term bonds (D4, D5, D6 and D7) for PLN 50 million, 10 million, 30 million and 30 million, respectively.

Following the issue of B4 series bonds, representatives of the Bank participated in a series of meetings with institutional investors organized under the roadshow.
The following person is responsible for ongoing investor relations in the Bank:
Magdalena Ossowska-Krasoń
press spokesperson
e-mail: M.Ossowska-Krason@pocztowy.pl
Phone: (22)328 76 06
Mobile: 601 057 496
On the website of Bank Pocztowy S.A. (www.pocztowy.pl), in Obligacje Banku Pocztowego section, all current and periodic reports published by Catalyst through EBI are disclosed along with other information regarding bonds issued by the Bank.