Poll
Organizational and infrastructural development
1. Organizational structure of the Bank
During 2014 the organizational structure of Bank Pocztowy was adjusted to new tasks imposed by its development strategy up to 2017, including the requirement to separate supervisory and control capacities from business operations.

In December 2014 Bank Pocztowy was divided into four functional areas managed by individual Management Board members:
Strategic Management;
Business, Treasury and Marketing;
Business Support;
Finance and Risk
Organizational structure of Bank Pocztowy as at 31 December 2014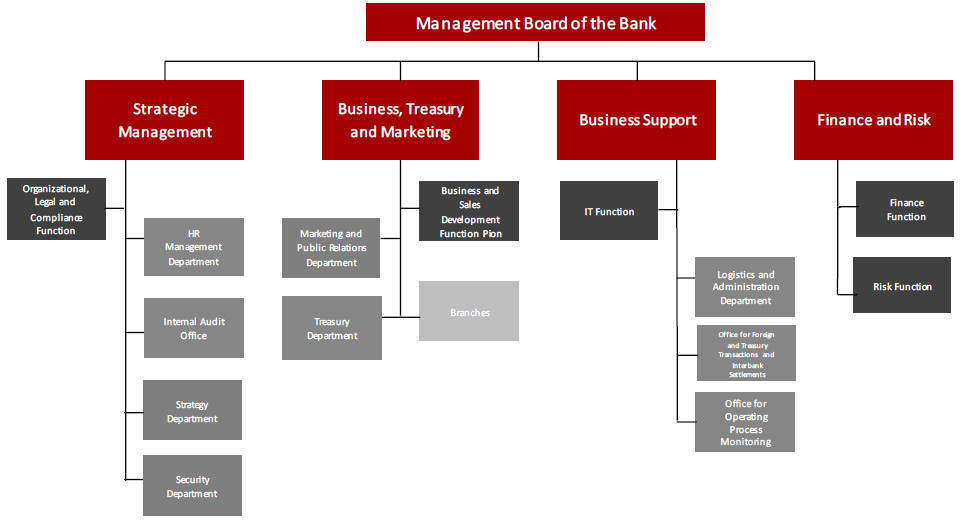 Following changes in composition of the Bank's Management Board referred to in section 13.9 Activities of Bank's corporate bodies – composition of the Management Board, since 12 February 2015 the organizational structure of the Bank has been modified.
Key changes in the organizational structure of the Bank:
Deputy Chairman of the Management Board acting the Chairman has supervised the Strategic Management plus Marketing and Public Relations Department, transferred from Business, Treasury and Marketing;
Management Board Member previously in charge of Business Support supervises only Business and Treasury (previously Business, Treasury and Marketing, now supervised by the Chairman of the Management Board);
Business Support has been entrusted with a Management Board member appointed on 12 February 2015;
Finance and Risk has been added a task previously assigned to Business Support and involving support of currency trade transactions and settlements, as well as settlement of transactions concluded by the Treasury Department that have been moved to the Finance Function;
Providing of management information through Data Warehouse previously entrusted with IT Function in Business Support has been moved to Business and Sales Development Function in Business and Treasury;
Efficient supervision of agreements concluded between the Bank and insourcers with regard to operational measures, development, implementation and reporting of operational ratios for the Bank's purposes, as well as coordination of capital expenditure procedures have been moved to Business and Sales Development Function in Business and Treasury.

Organizational structure of the Bank as at the date of the report: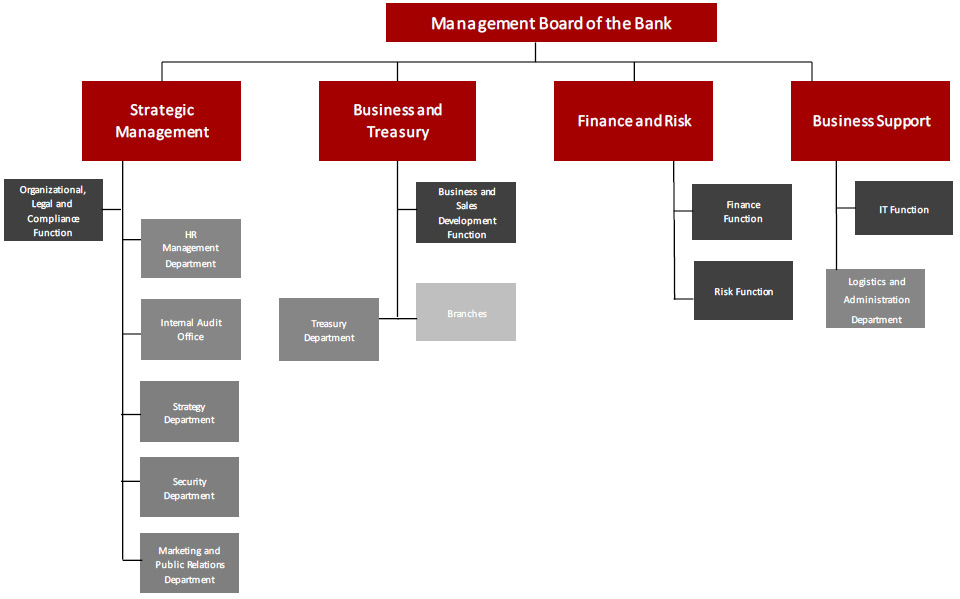 Key objectives and tasks assigned to each area:
Strategic Management:
Organizational, Legal and Compliance Function: ensuring efficient operation of Bank's bodies, efficient management of compliance risk, efficient legal support to protect interests of the Bank;
Developing employment, training and social policy, ensuring appropriate staff quality and qualifications;
Ensuring tight and effective internal control;
Developing and verifying Bank's strategy;
Ensuring security of IT systems and Bank's resources, to include business continuity solutions and safety of Bank's operations and clients' funds through preventing fraud, money laundering and terrorism funding;
Marketing activities, internal and external communication.
Business and Treasury:
Business and Sales Development Function: Development and implementation of retail and institutional sales of Bank's and third party products, development of retail and institutional business, organization of an efficient network to sell retail and institutional banking and third-party products, ensuring efficient supervision of agreements concluded between the Bank and insourcers with regard to operational measures; development, implementation and reporting on operational ratios for Bank's purposes.
Treasury Department: current liquidity management.
Finance and Risk:
Risk Function: developing a system for integrated risk and capital management to support strategy implementation and maintenance of the assumed risk appetite level; developing risk management strategy aligned to the Bank's strategy; in particular, developing Bank's policy concerning credit risk, developing an effective risk monitoring, restructuring and debt collection system.
Finance Function: performing the financial planning process, monitoring implementation of financial plans, keeping accounting records, managing internal resources, strategic management the structure of assets and liabilities and structural liquidity in the Bank, ensuring performance of currency trading transactions and settlements, as well as settlement of transactions performed by the Treasury Department.
Business Support:
IT Function: maintaining infrastructure and IT systems on an appropriate level and developing IT systems in accordance with internal client expectations; providing management information through Data Warehouse.
Logistics and Administration Department: providing administrative and logistic services to the Bank.
2. Banking product distribution channels
Bank Pocztowy has a well-developed sales network consisting of:
Main channels, to include the Bank's own network, Poczta Polska's sales network and the distribution network of Spółka Dystrybucyjna;
Support channels: Internet banking, Contact Center, agents.

At the end of 2014, Bank's own distribution network included 293 units: one Branch, 23 Outlets (including one agency) and 269 Microbranches. During 2014 the network was extended with 13 Microbranches.

In 2014 the Bank commenced the process of revamping its network to reflect the newly adopted strategy.
The refreshed and improved image of Bank Pocztowy outlets is presented below.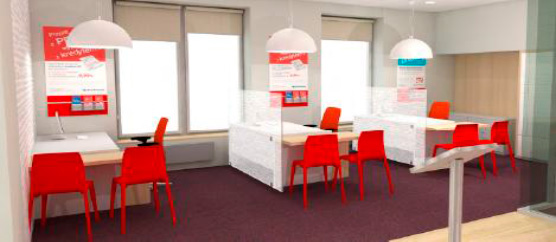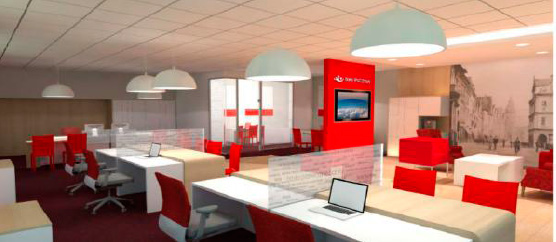 The first outlet equipped with the new logotype similar to that of Poczta Polska is the office located in Kalisz at Zamkowa 18/20. The preparatory works were completed on 1 August 2014.

In 2014, the Bank opened the first pilot agency in Bełchatów. The outlet is located at a trade mall and has full access to databases (Ferryt, Front – end and applications accessed through Internet). The agency works ten to twelve hours seven days a week.

Internet distribution channels are being developed as well. Consumers may use Pocztowy24 e-banking system, while institutional clients have access to Pocztowy24 Biznes. Contact Center is a phone banking system allowing clients access to their accounts and other banking services via phone or web communicators.


The network of traditional distribution channels in Bank Pocztowy by province:

Further, Bank's products are distributed via network of mobile advisors of Spółka Dystrybucyjna, selling loan products among clients with limited access to the Bank's sales network. At the end of 2014, Spółka Dystrybucyjna cooperated with 94 advisors.

The Bank provides financial services using the sales network of Poczta Polska (approx. 7.3 thousand offices including 826 Postal Financial Points and 504 Postal Financial Zones). Further, its products are distributed by 23.3 thousand postmen. The extensive network provides easy access to banking products and services countrywide.
The scope of services provided by each channel distributing products and services of Bank Pocztowy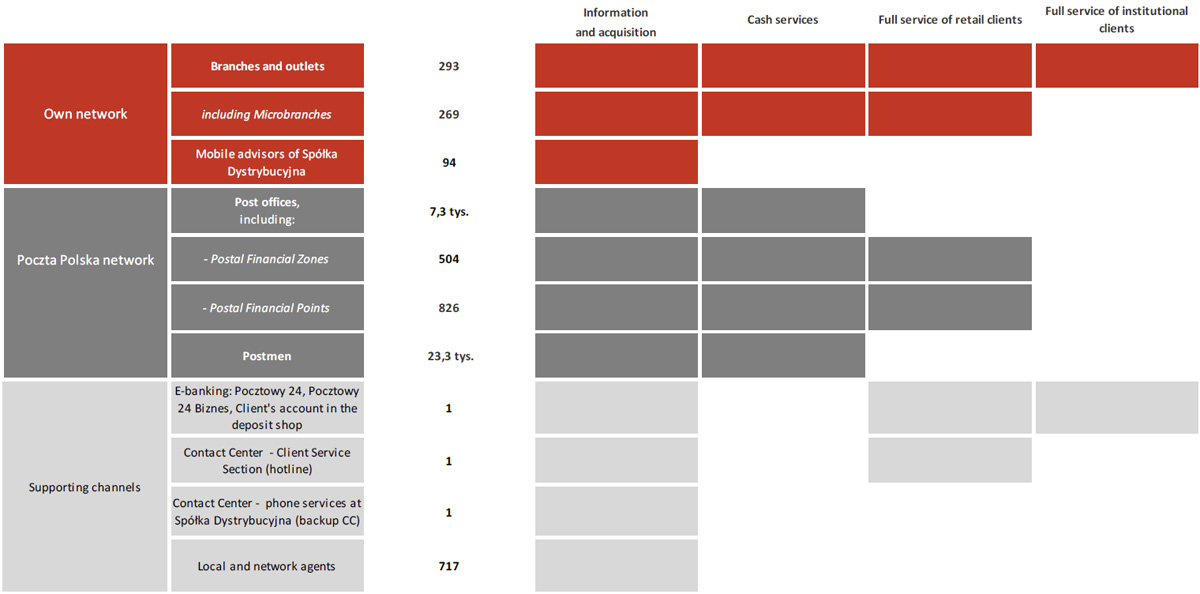 3. Development projects
In 2014 the Bank Pocztowy Group incurred capital expenditures on development projects amounting to PLN 11.3 million, which was an increase compared to PLN 9.3 million in 2013. Most investments pertained to IT (improvement and development of key IT components). Outlays for development of e-distribution channels and modernization of own network of outlets constituted another material cost item.
Development of e-distribution channels
In April 2014, the Bank implemented a new Internet platform for retail clients called Pocztowy24, which replaced the older solution.



The new e-banking system allows remote access to products and services of Bank Pocztowy through one user-friendly integrated system. Strengths of the new application include simplicity, transparent look and easy to use icons allowing intuitive use of banking products. Clients can personalize the homepage to allow more efficient use of their favorite functionalities.

The demo version of the new system where users can learn to operate the system is available at www.nowy.pocztowy24.pl/demo/. Users who do not have Internet accounts can learn how to make money transfers, pay bills, repay loan installments and credit cards, top up mobile phones and even make a deposit. All transactions involve zero risk and use virtual money.

From May 2014 to December 2014, 808 logins were recorded at Pocztowy24.

IT and Transactions
In 2014 the Bank completed implementation of Front-End application in all outlets. The key objective of the project was to develop a new technology solution to allow extending the scope of products and services offered to clients, improving and accelerating the process of selling products and services in all outlets. Implementation of a new technology solution in Poczta Polska outlets is a follow-up of the Front-End implementation in the Bank's outlets.

Network of Bank's outlets
Under the adopted strategy, the Bank continued the project of improving sales efficiency in Poczta Polska outlets through development of a network of Microbranches. In 2014, thirteen Microbranches were opened.

In close cooperation with Poczta Polska, the Bank commenced the process of network revamping accompanied with introduction of a new book of standards aimed at adjusting the Bank's outlets to the standards of Poczta Polska.

In 2014 the process of opening agencies in new locations, i.e. in trade malls, has been commenced, and one of the two agencies has been opened. The opening of the other agency is planned for the beginning of 2015.

Projects related to the Bank's operations
The key project involved the building of a Customer Relationship Management system, i.e. a tool that would allow strengthening relations with Bank's clients. The project is aimed at provision of comprehensive CRM solutions to integrate all communication channels and sales supporting systems. This will allow developing mechanisms to collect client data and prepare special customized offer available in their preferred distribution channels. The offer shall be available through advisors via CRM tool, in remote channels as IVR and on the website through systems integration under the project.