Organizational and infrastructural development
Organizational structure of the Bank
In 2015 the organizational structure of the Bank was adjusted to new tasks imposed by its development strategy up to 2018, including the requirement to separate supervisory and control capacities from business operations.
In 2015 Bank Pocztowy was divided into four functional areas managed by individual Management Board members:
Strategic Management,
Business, Operations and Treasury,
Finance and Risk,
Business Support.
Since 1 March 2016 Bank Pocztowy has been divided into four functional areas managed by individual Management Board members:
Strategic Management,
Business, Finance and Treasury,
Risk and Operations,
Business Support.
The Digital Banking Department was launched in the Business, Operations and Treasury areas on 1 January 2016. On 1 March 2016 the Finance Department was moved from Finance and Risk to Business, Finance and Treasury and the Process and Operations Department became a part of Risk and Operations (having been transferred from Business, Operations and Treasury).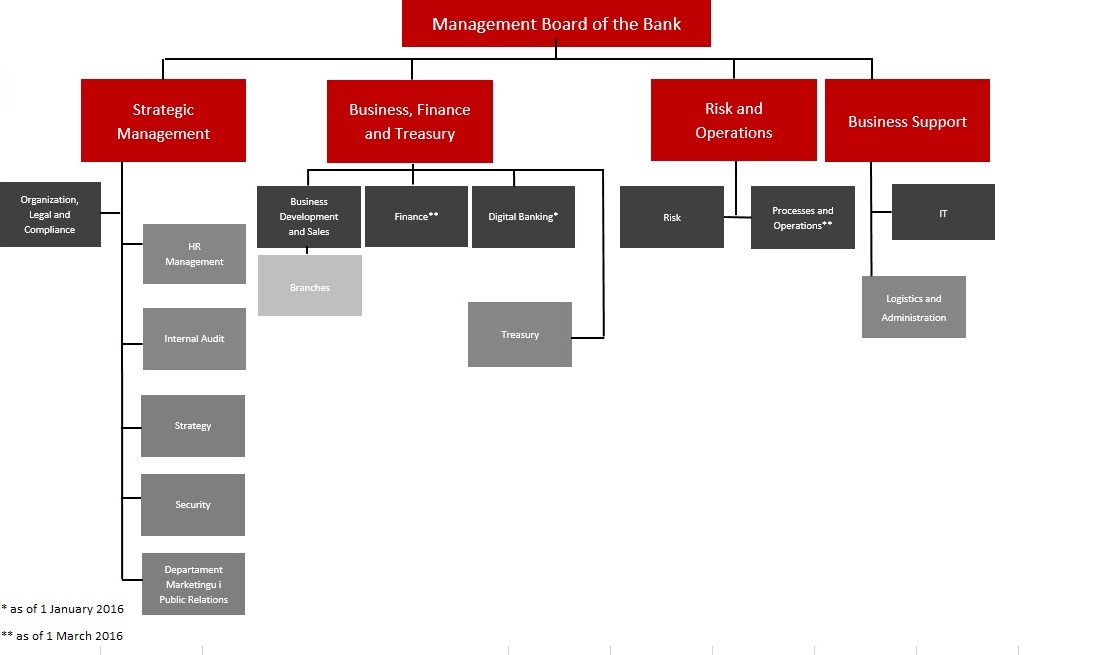 Key objectives and tasks assigned to each area:
Strategic Management:
Organization, Legal and Compliance Function: ensuring efficient operation of Bank's bodies, efficient legal support to protect interests of the Bank, ensuring security of IT systems and Bank's resources, to include business continuity solutions and safety of the Bank's operations and clients' funds through preventing fraud, money laundering and terrorism funding,
Human Resources Management Department: developing employment, training and social policy, ensuring appropriate staff quality and qualifications,
Internal Audit Office: ensuring tight and effective internal control,
Strategy Department: developing and verifying the Bank's strategy,
Compliance Department: ensuring efficient management of compliance risk,
Marketing and Public Relations Department: marketing activities, internal and external communication.
Business, Finance and Treasury:
Business and Sales Development Function: developing and implementing retail and institutional sales of the Bank's and third party products, developing retail and institutional business, organizing an efficient network to sell retail and institutional banking and third-party products, developing CRM and data analysis tools, by way of ensuring management information through the Data Warehouse,
Finance Function: performing the financial planning process, monitoring implementation of financial plans, keeping accounting records, managing internal resources, strategic management of the structure of assets and liabilities and structural liquidity in the Bank,
Digital Banking Function: providing services to digital clients covering offer management and development of modern access channels.
Treasury Department: current liquidity management.
Risk and Operations:
Risk Function: developing a system for integrated risk and capital management to support strategy implementation and maintenance of the assumed risk appetite level; developing risk management strategy aligned with the Bank's strategy; in particular, developing the Bank's policy concerning credit risk, developing an effective risk monitoring, restructuring and debt collection system.
Process and Operations Function: developing processes and service support, developing a desired bank service and product offer and innovative functional and technological solutions essential for meeting business objectives, ensuring efficient supervision over performance of operational activities under agreements between the Bank and insourcers, developing, implementing and internal reporting of operating performance ratios, coordinating the Bank's capital investments, participating in the sale of retail credit products, mortgaged retail credit products, credit products for microenterprises and institutional clients sold in individual distribution channels, participating in the credit approval process, ensuring foreign currency transaction processing and settlements and settlement of transactions concluded by the Treasury Department.
Business Support:
IT Function: maintaining infrastructure and IT systems on an appropriate level and developing IT systems in accordance with internal client expectations.
Logistics and Administration Department: providing administrative and logistic services to the Bank.
Bank Pocztowy has a well-developed sales network consisting of:
the Bank's own network of branches, offices, agencies, micro-branches, online banking channels and the Contact Centre,
the network of Poczta Polska,
the distribution network of Spółka Dystrybucyjna,
agents.
Distribution channels' structure of the Bank has been presented below.

At the end of 2015, the Bank's own distribution network included 284 units: one branch, 23 offices (including three agencies) and 260 microbranches. Following the analysis of office location efficiency and of their performance, as well as actual client needs in 2015 the Bank closed 9 outlets. The action steps aimed at improving the efficiency of the sales network will be continued in future and they may bring about relocation of certain outlets to locations with the higher business potential and further networks restructuring. The network revitalization complies with the new Bank Standards Book and the new strategy adopted by the Bank. In 2015 Elbląg and Wrocław offices were revitalized
Two agencies of Bank Pocztowy were opened: one in Sosnowiec in February 2015 and one in Rybnik in September 2015. Agencies are opened in shopping malls and provide all services of a Bank office and selected services of a post office. They are open seven days a week during the shopping hours. The Bank has entered into an agreement with a Partner, who is independent in its management and HR policy. The first such outlet was opened in Bełchatów in 2014.
The network of traditional distribution channels in Bank Pocztowy by province:
The network of traditional distribution channels in Bank Pocztowy by province:
| | |
| --- | --- |
| 31.12.2014 | 31.12.2015 |
| | |
Internet distribution channels are being developed as well. Consumers may use Pocztowy24 e-banking system, while institutional clients have access to Pocztowy24 Biznes. Contact Center is a phone banking system, which enables clients to access their accounts and other banking services via phone or instant messengers. In 2015 the Contact Center employed 55 people. In 2015 they answered 900 000 client calls, replied to 86 000 e-mails and chatted online with clients 12 000 times.
Additionally, the Bank's products are distributed by 26 thousand Mobile Relationship Managers of Spółka Dystrybucyjna. Under the agency agreement with the Bank, Spółka Dystrybucyjna coordinates the work of mobile RMs, who sell mortgage products offered by the Bank, cash loans and products offered to microenterprises. The self-employed RMs operate countrywide. Under the agreement the RMs may use back-office units of Spółka Dystrybucyjna in ten locations: Warsaw, Gdańsk, Gdynia, Bydgoszcz, Olsztyn, Katowice, Łódź, Poznań, Krakowie and Wrocław. The RMs acquire new clients for the Bank using own business relations. At the end of 2015, Spółka Dystrybucyjna cooperated with 93 RMs.
The Bank provides financial services using the sales network of Poczta Polska (the total of 4 659 post offices and post outlets and 558 Postal Financial Zones). Further, its products are distributed by 23 thousand postmen. The extensive network provides easy access to banking products and services countrywide.
Photos of outlets designed in line with the new standards have been presented below: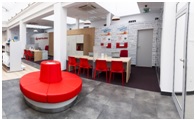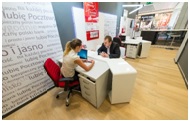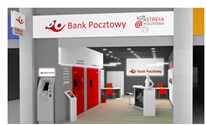 Photos of Partner Outlets: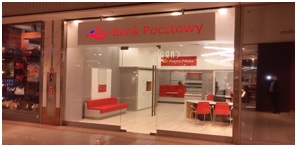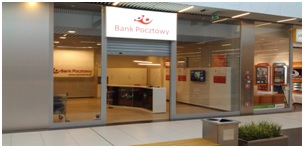 Each Bank office with the average area of 60 sq. m. has from 6 to 12 people of staff (except for the Bank branch, the area of which is 330 sq. m., which employs 14 persons). Microbranches located mainly at the premises of Poczta Polska occupy from 10 to 20 sq. m. of space for two to three persons of staff. When developing the network of microbranches, the Bank started converting 2-person microbranches to those with three persons of staff. The process is aimed at extending banking hours, ensuring more efficient replacement process (at the same time improving operational continuity) and growing the sales potential.
Bank agencies are located in shopping malls on the area of up to 80 sq. m. and employ from 3 to 5 people.
One or two employees work in Postal Financial Zones located at the premises of Poczta Polska and occupying from 7 to 15 sq. m. They are employed by Poczta Polska to sell financial services only. At the end of 2015 the number of Postal Financial Services reached 558.
The scope of services provided by each channel distributing products and services of Bank Pocztowy.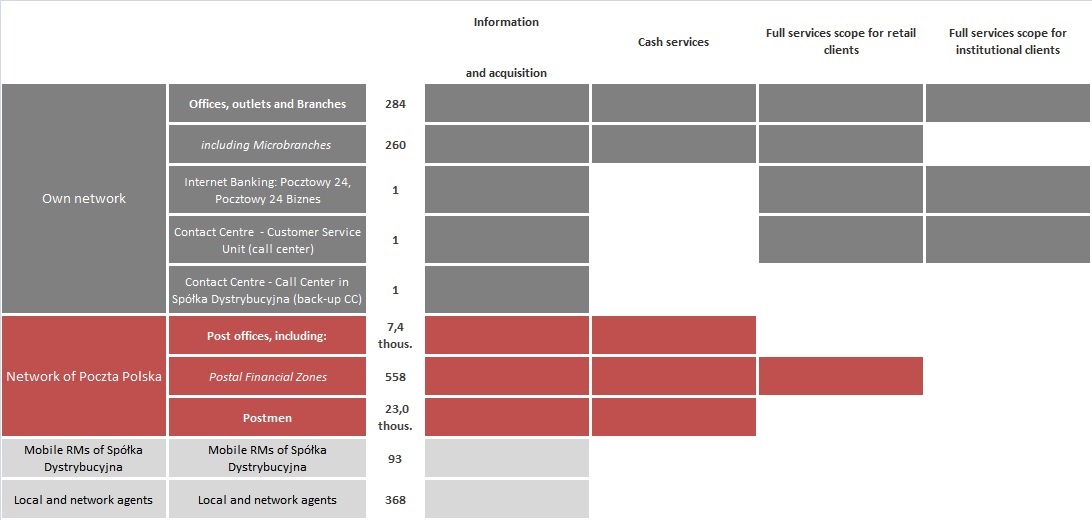 Development projects
In 2015 the Group incurred capital expenditure on development projects amounting to PLN 22.6 million,which was twice as high as in 2014, when it equaled PLN 11.1 million.The increase in the capital expenditure in 2015 was to a large extent related to the Bank's plans to implement a new, extended mobile and online banking platform EnveloBank.Moreover, most investments pertained to IT and included the modernization and development of key IT components and optimization of back-office and sales processes.A portion of funds was used for developing the traditional outlet network.
In 2015 the capital expenditure of the Group was used for the following development projects:
Digital services development
One of the key strategic projects for 2016 is the launch of EnveloBank - a new digital brand of Bank Pocztowy responding to the needs of mobile clients. At the same time it has been the largest project carried out by the Bank in terms of its elements and the human and financial resources involved. In 2015 the Bank made certain efforts to prepare for the launch of the new brand, such as developing a technological solution and a product and service offer for clients. Project details have been presented in section 11.3 New digital brand – EnveloBank.
Development of e-distribution channels
New internet platform for consumers and institutional clients
In 2015 further growth of the new internet platform for consumers and institutional clients of Pocztowy24 was observed. A number of upgrades and changes were implemented in the Pocztowy24 platform.The production deployment took place in July 2015 at the same time as the installation of Front End and CRM systems.

New website www.pocztowy.pl
The key objective of the project carried out in 2015 was to provide the Bank clients with the modern website www.pocztowy.pl available from any type of mobile device.

On-line loan
The key objective of the 'on-line loan' project was to increase the sale of consumer loans by way of creating a new channel, to maintain top market standards, to acquire clients from the new segment and to carry out cross-selling activities.On-line project follows the strategy for developing the consumer offer of Bank Pocztowy in the years 2015-2018.On-line loan, as an entirely digital product, will extend the product range offered by EnveloBank.

Instant transfers
Instant transfers, a new product in the Bank's offer, have been implemented to drive the attractiveness of the Bank's offer for mobile clients.Instant transfers will enable clients holding current accounts with the Bank to make fast transfers within 20 minutes.Following the implementation the Bank's offer will be adjusted to market standards with respect to instant transfers.
IT and Operations
Front-End implementation in the offices of Poczta Polska S.A.
Implementation of a new technology solution in Poczta Polska offices is a follow-up of the Front-End implementation in the Bank's outlets.The project will allow for extending the scope of products and services offered to clients in post office outlets, availing products and services in all post office outlets and streamlining and accelerating the process of selling products of Bank Pocztowy and after-sale services.
Benefits:
access to the largest traditional service network,
unified service standards and applications for the Bank and the post office,
on-line access to all Bank services (cash payments and withdrawals, transfers and orders, deposits and power of attorney registration in all post offices,
one technology – Front-End system replaces all technologies used before, hence employees of the Bank and Poczta Polska can provide services in the same application,
fast and easy – Bank outlets issue instructions with a bar code, which keeps the process of registering cash transactions in the post office counter as short as possible,
centralization – settlements between the Bank and Poczta Polska S.A. related to cash transaction services at the post office have been fully automated and no further services provided at the Bank are required,
new opportunities – since the implementation of the Front-End system post office staff have been able to provide after-sale services for bank cards and loans.
Projects related to the Bank's operations
Development of the Customer Relationship Management system
The key project objective has been to provide comprehensive CRM solutions which would integrate all communication channels and sales support systems, which will allow for developing mechanisms to collect client data and prepare special customized offer available in their preferred distribution channels.The offer shall be available through RM via CRM tool, in remote channels such as IVR and on the website through system integration in the project.Consequently, a strong relationship, beneficial for both parties, will be developed.All cross-selling initiatives will encourage client activity and increase the number of products sold per one client at the same time increasing income in the consumer segment.

Upgrade of workflow system (Ferryt)
The project objective is to put into practice the following ideas:

"simple banking" achieved through simple user interfaces and short request processing time,
"@ccessible banking" achieved through new possibilities of filing requests for products and services.
The project performance will improve platform stability, which will reduce the risk of access problems.The initiative is an important element of the Bank's strategy assuming development of remote channels and providing banks services 24/7.
Data Warehouse and MIS upgrade
The Project objective is to provide business functions with timely, accessible and reliable information supporting performance of market and financial goals.The objective will be performed through the development of controlling methodologies, the upgrade and development of the Data Warehouse and Management Information System tools.

Customer Lifecycle Management
The project focuses on Customer Lifecycle Management based on selecting most appropriate communication channels, communication and Bank credit products to the carefully selected client group. Development and implementation of the strategy will enable precise alignment of the Bank's credit products with the needs of consumers. This, in turn, will drive cross selling and profitability.
Additionally, the Group carried out security projects, such as the implementation of SIEM (Security Information and Event Management) to efficiently manage IT operational risk. It also introduced DLP (Data Loss Protection) and MDM (Mobile Device Management) systems improving information security and Anti-fraud and Anti-Money Laundering system reducing the fraud risk and counteracting money laundering and financing of terrorism.